This is a guest post by Erin of This Flourishing Life. Thanks, Erin!
I made my quesadillas gluten free and without cows mik. This recipe is great because it's very easy to make substitutions. You can add in something like chicken, shrimp, or onions to change it up a bit.
Ingredients:
Tortillas – One per person (I used rice tortillas)
Spinach (I bought organic packaged spinach and used about half of it)
Shredded Cheese – About 1 cup or handful per person (I used mozzarella, and would recommend the rice shreds if you want to keep it dairy free. I bought an 8oz bag and used about 6 or 7oz of it)
Goat Cheese – About 2oz per person
Seasoning (I used garlic, onion, and pepper)
Oil (I used olive oil)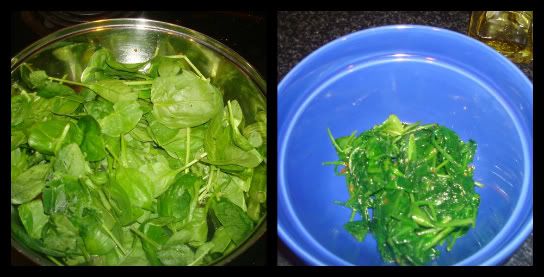 Making It: Saute the spinach with some garlic, onion, and pepper. Then set aside.
Put some oil in a pan on medium heat. Warm up one side of the tortilla (this will be the inside of the quesadilla).
Assemble tortillas with a layer of shredded cheese, a layer of sauteed spinach, and a layer of crumbled goat cheese (just on one side).
Put some oil in the pan, then put in the tortilla. Fold tortilla in half. Cook on both sides for about 2-4 minutes each, or until cheese is melted enough.
If you would like to add a dressing or dipping sauce to it, you can use balsamic vinegar or sour cream. Both would work well with this quesadilla. Enjoy!
*Erica is the creator and writer of This Flourishing Life, a blog where she desires to glorify God through her ramblings about Jesus, organics, recipes, cloth diapering, mommy stuff, health issues, reviews, and giveaways. If you would like to read more from Erica, you can check out her Blog and Facebook Page.*